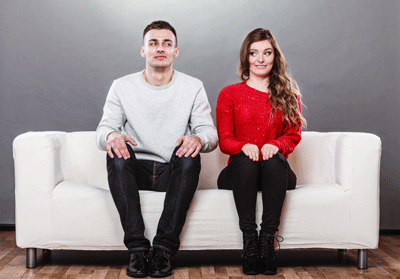 As I sat here brainstorming for this blog article, I spent a significant amount of time trying to come up with a good comparison task for lead nurturing. What relatable, common task could I associate with lead nurturing, in order to illustrate my point? And the best I could come up with was dating.
Yes, lead nurturing is a little bit like dating – although I admit I'm much better at one over the other (guess which one). In dating, you don't want to seem overeager, while still appearing interested. You've also got to time things like text messages and phone calls very carefully in the beginning – if you come on too strong, you'll repel the other person. And if you're too distant, then you appear disinterested. It's quite a tightrope walk. And I hate to tell you this, but lead nurturing isn't much different.
Calling is not the first, second or maybe even third task
Basically, what I'm getting at is that you won't be calling for a while. We don't want to call leads immediately because we don't want them to feel overwhelmed by us. Imagine if you submitted a form online and received a phone call an hour later – it would probably seem weird, maybe even a tad creepy.
If you're utilizing inbound marketing (and you should be, since you're on an inbound agency's website), then most leads will come via content offers. The visitor will submit a form on your website to receive a content offer, which transforms them from a visitor into a lead. So your first contact with them should be via email, after they submit that form. The email should also be automatically sent to any visitor who submits a form.
Follow-up with email
Now that we've established this person as a lead, we have to start nurturing them. Our recommendation? Start with an email. Have someone on your sales staff reach out to the lead, using whatever information you have on hand. For instance, if you use marketing automation software (such as HubSpot, which we use and love here), it will allow you to track a lead's activity on your website. If a specific lead keeps reading blog articles on your site about a certain topic, then use that to your advantage.
When your sales staff reaches out to the lead, send them a content offer related to the topic of the blog articles. This might be something you give out free to everyone, but it's still a nice gesture that a lead is likely to appreciate.
And now… we call
Once you've reached out to the lead once, check that they've actually opened the email. Hopefully, they also clicked on something inside the email. If both of these events occurred, then it's time to call – your lead has expressed some genuine interest and it's time to strike!
However, if they didn't open the email, you might want to consider sending a second follow-up. We don't want to waste time with uninterested leads, so if they also fail to open the second email, move them to the back of the line. You can feel free to call them, but since they haven't expressed much interest, they should not be a priority. Better to focus on leads that have shown legitimate interest.