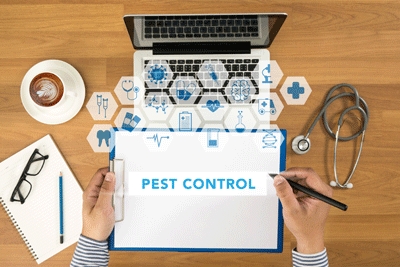 Are you hurting for customers? If your phone has been silent for an uncomfortably long time, it is time to reevaluate your marketing strategy. As a pest control company in this digital age, you have to keep up with the trends to stay ahead of the pack. 81% of consumers conduct online research before they make a purchase, so your business needs to have a great online presence. First impressions are everything online, so if your website is out of date and hard to navigate, or it is near impossible to find your contact info, you are missing out on potential sales!
Luckily, inbound marketing is perfect for establishing yourself online and will help generate new leads, nurture old ones, promote your brand, and much more. Learn the difference between inbound and outbound marketing with this great infographic from Voltier Digital. You shouldn't be forcing your advertisements on strangers, the strangers should be seeking out your services by themselves! How do you make this happen? Well, there are several ways.
Offer your audience something useful
People like free stuff, and it is even better if it is useful. At the heart of inbound marketing is great content. Content is what brings people to you and makes them remember who you are. The most common content offers are eBooks, which can cover any range of topics. As a pest control company, you can write about ways to protect a home against termites or anything else you think people want to learn. If you have been working in pest control for several years or maybe your whole life, you have useful knowledge to offer people.
"If you have knowledge, let others light their candles in it" - Margaret Fuller
Of course, you don't have to write an entire eBook. There are plenty of other options. It doesn't really matter what type of content you decide on; the most important thing is making sure it is relevant to your audience. You want to attract the right type of people, who have the highest chance of becoming paying customers. If you have no return on investment, it is simply not worth your time. By offering free downloads, you are increasing your contact list and adding more leads that could turn into sales.
Make your website user friendly
This should be a top priority for any company looking to revamp its marketing strategy. Take a good look at your website and ask yourself or a friend these several questions.
Is it easy to determine what the company does?
Can you quickly figure out the location and contact info?
Is the page messy and unpleasant to look at?
Do all the buttons and parts work as intended?
Would you do business with this company based on what you see?
Now you should have a pretty good idea whether it is time for a redesign. Not only is the look and functionality of your website important, but also your page optimization. This is what determines your ranking on search engines like Google. According to Search Engine Journal, 93% of online experiences begin with a search engine and 75% of users never scroll past the first page of results. Therefore, if someone is searching for help with a pest problem, you should be on the first page listed in order to land that potential customer.
This is incredibly important for pest control companies because most don't have immediate name recognition, so you are relying on organic search traffic. You want people to just type in something like "termite problem + (your location)" and immediately find your business. By integrating popular keywords onto your website and frequently posting blogs, you can potentially boost your rankings.
Connect with your audience
There is almost nothing more annoying than being bombarded with boring, off-base advertisements on television, the radio, and especially online. Don't make your audience angry at you before they even know who you are! Inbound marketing will bring you even closer to your consumers, so you can start to build a relationship together and turn strangers into leads. It is all about two-way communication. As a pest control company this is great because it increases the likelihood of current customers becoming what are known as "promoters" and recommending you to their friends and acquaintances.
Some excellent ways to create connections are by allowing comments on your blog posts and responding to them, sending out personalized thank you messages to everyone who downloads your content offers, and actively engaging on social media. According to the Content Marketing Institute, 70% of consumers prefer getting to know a company via articles rather than ads, and 60% feel more positive about a company after reading custom content on its site.
People like dealing with people. Let your company feel real rather than something anonymous and nondescript. The more you connect with people, the larger your audience will grow, the more potential leads will come in, which can mean more customers and a ringing phone again.