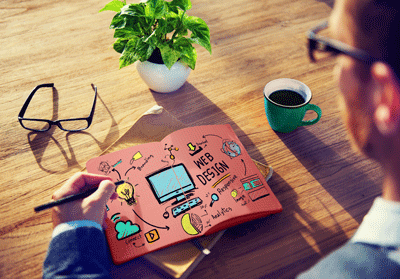 Nothing lasts forever, and that's especially true in the hyper-paced evolution of the World Wide Web. Do you remember what some of the earliest versions of some popular websites looked like? I like to look at the Wayback Machine on archive.org to take another look back at some of those sites, many of which seemed so modern and cutting edge not so long ago. It always amazes me to see how outdated and archaic those designs have become in a relatively short period of time.
So, while you've undoubtedly put lots of effort, creativity, and very likely a considerable expense into designing your website, it's only a matter of time until you look at it and know that you're ready for a more modern website redesign. But with so many options available, both for do-it-yourself website construction, and for hiring developers, it can be difficult to decide on what would be the best way. Here are a few things we think you should know when embarking on a modern website redesign project:
It's a mobile world these days
I'm sure you're hearing this everywhere these days, but more and more people are accessing the internet using mobile devices as compared to desktop computers. It's a growing trend that we don't expect to see changing in the foreseeable future. And it's not just talking and texting with friends, or playing games that we're all doing. Most people are now using their smartphones for business of various types. A recent study by Pew Research shows that more than half of smartphone users have used their phones for such functions as banking and getting health information. If that's not enough to convince you, take note of the recent changes Google has made to their search algorithms, which now give higher priority to "mobile-friendly" websites. So, in addition to being user-friendly for smartphone users, your website redesign had better pass the "mobile-friendly" test, or it may not even be found.
It's not just about text
If you want to take that trip back to the web of the past, as I mentioned above, there's one thing that will probably stand out regarding those early websites. The earliest sites we see were mostly what used to be called "brochureware", in other words, they were basically an electronic version of whatever static content a company might have put on a printed brochure. That whole concept seems almost quaint by today's standards. A modern website redesign really needs to take a more multimedia approach, including images, and perhaps some video and audio components. I don't mean the kind of corny animations and blinking graphics that we used to see around 2000, but a richer user experience that will keep people interested in your site. Including a video presentation about your products is a prime example.
The world (wide web) is flat
One of the hottest trends in website is what is called "flat design". It refers to a minimalist approach to the web page, based on simplicity of images, often done in bright colors. While this doesn't mean to forget about the multimedia elements I mentioned, it does mean that for a modern website design, you'll do well to keep it simple graphically, instead, focusing on direct the user's attention to your content. And if you've been following this blog, you know the level of value we place on content.
Think outside the box
I know, that's a terrible cliche these days. But in this case, I'm talking about the actual graphic design of the web page. The first web pages basically worked within the structure of the page, which was essentially a virtual sheet of paper. Then came frames, which divided in the page into multiple rectangles. But with current tools, you can do a modern website redesign which isn't bound into boxy frames. Everything from circles to irregular shapes works now, as well as some almost amorphous designs.