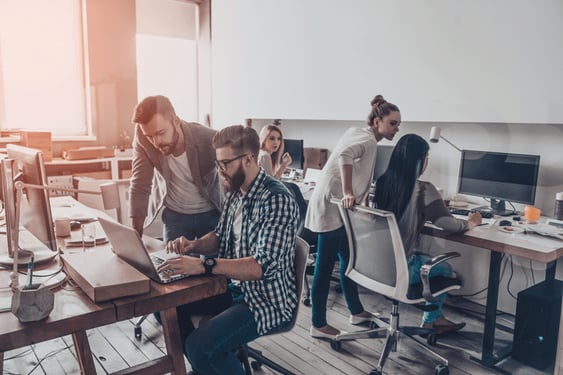 As 2017 continues, it's time to start implementing an updated marketing strategy for the year. Content marketing has become something of a buzzword in the business world, and it's a topic that we discuss a lot on this blog. If you're looking to increase your efforts in this area, you're not alone. The Content Marketing Institute recently reported that among B2B marketers surveyed, 70% say that they plan to create more content in 2017 than they did in 2016. If you've been following any of our blogs on the value of content marketing, that statistic shouldn't really come as a surprise. But this one might: the same report revealed that only 37% of companies maintain a documented content marketing strategy, and only 34% are satisfied that their strategy is effectively helping them achieve their marketing goals.
This disparity shows that while we are, as an industry, becoming more aware of the importance of content marketing, the majority of companies don't really know how, or perhaps lack sufficient resources, to properly strategize and implement their marketing efforts, at least in this area. If you're finding yourself in this quandary, it may be worth your while to consider outsourcing your content marketing strategy.
To Outsource or Not To Outsource
Admittedly, it's something of a dilemma, especially for a young and growing business. You wouldn't have gotten as far as you have without an independent, "do-it-yourself" mentality, which seems to be a common thread among most of the owners of startup businesses I've worked with. It's also difficult to relinquish control of a large piece of your company's strategy. Yet, we all know that at some point in your business' growth, it becomes unwieldy if not impossible to manage it all on your own. Here are a few thoughts to ponder, which may indicate that it's time to outsource your content marketing strategy:
You're looking to save money
We don't want to suggest that you opt for the cheapest possible solutions, or downplay the importance of quality vs. price, especially when it comes to something as vital as your content marketing strategy. But please consider this. Is your company really budgeted to bring on the type of seasoned, highly skilled marketing professionals that are really needed to effectively run your campaigns? Before you answer "yes" to this question, think about how many people you can afford to add to your payroll, including their salaries and benefits, as well as the associated overhead costs, and a whole load of intangible soft costs like recruiting, sick days, etc. Keep in mind that there are lots of pieces of the content marketing puzzle, including not only content creators, but graphic designers, web developers, strategists, analysts and more. When you outsource the work to a content marketing agency, you'll get a full team of pros with diverse talents, often for less than the cost of hiring even one in-house employee.
Your need to scale your marketing efforts quickly
Unlike other aspects of the operation of your business, marketing is likely to not be a constant need, especially in the early years. You may need to scale up your efforts for a big seasonal promotion or another push, but then drop back after the campaign has run. That poses additional challenges to hiring in-house staff to manage all of this. It's costly to recruit, onboard, and train staff members, only to have to lay them off and do it all again when the next push comes up. Worse yet, you don't want to keep people on payroll even when there's no work for them. But when you outsource, your "virtual marketing team" scales up and down as your needs ebb and flow. Needed resources are deployed to your account as needed, seamlessly and invisibly to you, with no break in continuity.
You'd like to use cutting-edge technology
I admit that this subtitle isn't really fair. After all, when we talk about digital marketing efforts, who wouldn't want to utilize the latest and greatest software designed for those purposes. There are a lot of technological tools on the market, and no shortage of software aimed at improving your marketing campaigns. But few businesses really have the time to test and evaluate all the products available, even if you have the talent to do so, which is questionable. Your IT staff, if you have one, isn't necessarily as familiar with what it takes to run a successful marketing campaign. Any marketing people you have on staff may fear that "marketing automation software" is going to put them out of a job. On the other hand, if you hire an agency whose focus is nothing but content creation and marketing strategy, you can expect that they will have already done (and continue to do, on an ongoing basis) their due diligence in identifying the latest and greatest tools, like the HubSpot platform, that will most effectively accomplish your marketing goals.
Why outsource to a HubSpot partner?
That last paragraph segues nicely into the next piece of advice that I'm going to put forth: not only should you outsource your content marketing strategy, but, more specifically you should outsource it to a HubSpot partner. Why do we here at Rhino feel so strongly about HubSpot? Well, for starters, its name has almost become synonymous with the term "inbound marketing". They coined the term, over ten years ago, and since then they've remained at the bleeding edge of content marketing strategy and implementation. Far from being a "single-use" tool, HubSpot is a fully integrated platform from which you can manage all aspects of your marketing campaigns, following your prospects through every step of the buyer's journey. We became so impressed with the platform that we decided to partner with HubSpot, and have even become a Gold Tier HubSpot partner. Our membership in this elite group gives us additional support from the folks at HubSpot, and helps us develop customized marketing campaigns for our clientele.
Considering outsourcing your content marketing strategy? Why not contact us at Rhino for a consultation, to learn what we can do to help you achieve your marketing goals in 2017?