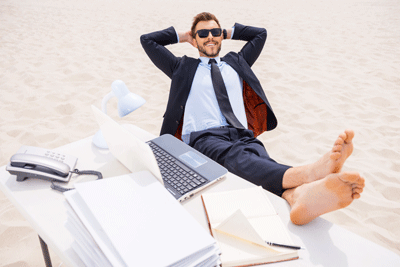 Inbound marketing is an exciting and effective way to generate leads and boost your business – but it can also be time consuming. With inbound marketing, you have a lot of moving parts to keep track of: your website, your blogs, your content offers, your leads, your emails… the list goes on and on.
There are valuable tools available to help you manage your inbound marketing campaigns. Hiring a marketing agency can allow you to organize your campaigns and get some assistance with implementation. Another option we highly recommend is marketing automation.
Marketing automation usually comes in the form of marketing software, which lives online. There are various automation vendors, but we recommend HubSpot. Not only is HubSpot constantly tweaking and updating their software to make it more efficient and powerful, they also wrote the book on inbound marketing.
For the purposes of this list, we're going to focus on HubSpot's benefits – but keep in mind, many of these features are available through other marketing software vendors.
Here are the top five benefits of marketing automation:
Easy Website editing
With marketing automation, you can choose to have your entire website live on the HubSpot platform. This is an excellent benefit, because it allows for supremely easy editing of any page. HubSpot utilizes what's called a WYSIWYG editor (What You See Is What You Get), which means you can easily drag and drop images, text, etc. in the page editor and see exactly what the page will look like, without the need for any coding knowledge. So if something is wrong with a page or you just want to make an update, you won't have to worry about contacting a web designer – virtually anyone can do it themselves.
Landing Pages are a cinch
In an inbound marketing campaign, you're going to want to create landing pages. These pages should be easy to set-up so you can create them on the fly as needed, and tailor them to specific campaigns. With HubSpot, you can create landing pages using the same WYSIWYG editor as your website, and publish them live online immediately.
Analytics
Since everything you create for your site lives on HubSpot's platform, tracking tags are automatically inserted into all web addresses. What does that mean for you? It means every visitor to your site is tracked and analytical information is constantly compiled, so you can understand how visitors are engaging with your website and what pages are most effective.
Relationship Tracking
Our favorite HubSpot feature is the contact database. With this powerful tool, you essentially build a file on every person you come into contact with. Whether it's through an email, a visit to your site, or simply adding their information to the database manually, every contact is tracked in the database. Once a contact has been established, every interaction is recorded from that point forward. So whenever you engage with the contact or they visit your site, it will go into the contact's file. Which makes it very easy for…
Lead nurturing
Marketing is all about getting leads – you need leads so you can turn those leads into sales, and therefore make money. With the contact database feature, lead nurturing is easier than ever. Using the information in the database, you can decide how you want to pursue a specific lead. Have they visited your site multiple times but never made a purchase? Use that information to send them an email tailored specifically to them. You can even set up automatic emails to be sent when a contact hasn't interacted with your business for a certain amount of time (a few weeks, a month, etc.). With the contact database, you'll never let another lead slip through the cracks.