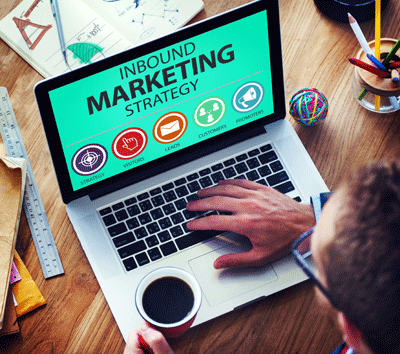 If you've spent much time on this blog, you know that we're always talking about inbound marketing as the most effective method of generating business in today's digital world. We also can't find enough praises for HubSpot as the ideal platform for managing your inbound marketing campaign from soup to nuts. Although there are plenty of options out there in terms of sales and marketing software, we think using HubSpot is a particularly smart choice for automating the process. Here are some of the reasons why.
HubSpot was a pioneer in the arena of inbound marketing. In fact, it was Hubspot's CEO and co-founder, Brian Halligan, who is credited with coining the term to describe what is also called "content marketing", and which is a contrast to old school, "outbound" marketing. Outbound marketing is intrusive - cold calling and emailing people, interrupting them and calling their attention away from what they're doing. Inbound marketing is smarter, and more effective. It attracts people to your site with engaging, informative content to help them on their path to buying. HubSpot automates and simplifies the process.
The contact database in HubSpot is unsurpassed as a CRM tool. Sure, there are plenty of contact management programs out there. But HubSpot's is designed to facilitate the inbound marketing process in a number of ways. Once you enter a contact's information in the database, you'll begin to see how smart it actually is. It will search the web for your contact's social media accounts, and, if it finds them, will incorporate them into their record. It will also track every time you make contact or reach out to that person, and log in detail every visit they make to your site. Unlike old school marketing, you'll never lose track of a lead again.
A lot of inbound marketing campaigns are centered around regular blog posting, and with HubSpot, the process couldn't be simpler. Everything can be done without knowing any code - its WYSIWYG editor is smart enough that it does all the work for you, and gives you a preview of what the post will look like, on the fly, as you're writing, It also integrates well with social media, giving you the opportunity to share your blog post on the socials at the click of a button.
Most importantly HubSpot will enable you to build a SMART Sales website™. This is a term we coined to describe the current generation of sales websites, which do so much more than the sites that were common in the early days of the web. Those were typically what's called "brochureware", because they were static sites which served as little more than an electronic version of a company's brochure. We call modern websites, the type that you can build using HubSpot, "smart" because of all of the added functionality and intelligence they offer. A smart site will not only make your content available to potential customers, but it will also provide a framework that nurtures your leads as they progress through the buyer's journey, ideally converting them into satisfied customers.