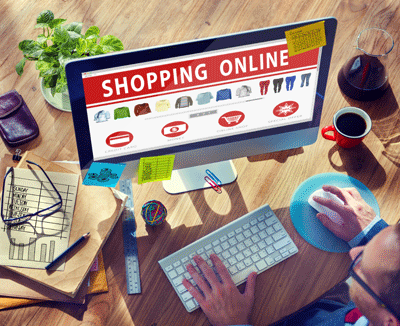 Unless you've been living in a vacuum, you must be aware of the importance of e-commerce in today's economy. Last year, in the week after Thanksgiving, also known as "Cyber Week" to marketers, consumers spent over $9 billion in online shopping. That's nothing to sneeze at. So if you're a retailer, and you're not doing e-Commerce marketing, it's a pretty big party you're missing. But what's the best way to spend your marketing efforts (and dollars) so you can capture your piece of that very large pie?
As you know, we're always talking about the importance of social media in branding and promoting your company online. But does that apply to your e-Commerce marketing program? You may be hearing conflicting opinions on this question. Here are a few point to consider:
A social media presence is not going to guarantee you sales
Don't make the mistake of thinking that putting up a Facebook page, sending out tweets, or posting photos of your products on Instagram is going to immediately drive traffic to your e-Commerce site. We have to be honest here. People don't log on to their social network of choice in order to go shopping. They're on there to socialize, and perhaps network. Your presence in the social networks is not going to result in a lot of quick sales. But it will have an influence on the process.
An invisible influence?
Some consider the value of social media in e-Commerce marketing to be more of an indirect, or even an invisible influence on the sales process. What do we mean by this? Social media tends not to be the direct link to the purchase, but usually comes earlier in the process. Let's look at an example. If I'm looking for a computer accessory like a new router, I may turn to some of my friends in tech communities on the socials. If I get a recommendation, Google the product, and buy it online, that's going to turn up in the vendor's metrics as a direct sale, though the source of the information certainly started in my network feed. The social network wasn't the final link in the process, but it definitely played a part.
Choose the right network
To maximize the benefits of social media for your e-Commerce marketing efforts, choose appropriate networks for your products, as well as your target audience. Facebook should almost certainly be included, based on the huge number of users. If your target audience includes younger women, Pinterest would be a good place to put your efforts. If visual images will help attract interest in what you sell, you may want to post them on Instagram. And make sure to focus your attention on relevant user communities and interest groups related to your work on any of the socials.
Use Social Media As Part Of An Integrated Marketing Plan
As we said, don't expect your social media presence to immediately result in a lot of new sales. The consumer world in the digital age is complex, and you'll need a multi-faceted e-Commerce marketing plan to succeed. Integrate your social media presence with other aspects of marketing, including email and of course, content marketing. Your presence on the social networks, which parallels hanging out a sign on an old time Main Street, should give you more visibility and credibility, and attract interest to what you're doing and selling.