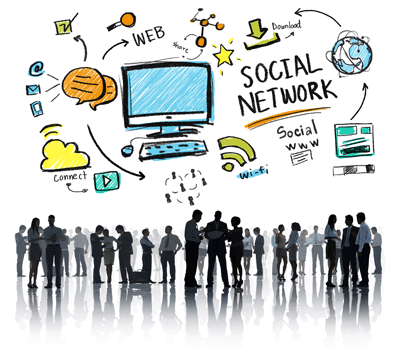 Many of us have a love-hate relationship with social media. Although we enjoy keeping in touch with friends who live in other states (or even countries), and like to share pictures of our vacations and other neat outings, there is definitely an ugly side to the social media world. Human nature doesn't change, and there can be plenty of gossiping and drama among our social media circles. And because social media is relatively new, we still don't fully understand all of the implications of this digital environment. Universities and scholars are performing deep studies into social media behavior and its effect on our lives and relationships, which proves two things: 1. We still have a lot to learn about how social media affects our lives and 2. Smart folks expect it to stick around for the foreseeable future.
So whether you love or hate social media, you had better get used to it – not just as a private citizen, but as a business owner as well. Regardless of the type of business you own, social media can play a part in boosting your sales and revenue. Let's discuss the various types of business owners who definitely need social media, despite their misgivings:
The business with an older and/or less tech-savvy clientele
So you run a business that caters to old folks. What the heck do you need social media for? Grandma's not on Facebook, right?
Surprisingly, some grandmothers are. There's a healthy contingent of social media users over the age of 65; according to the Pew Research Center, a whopping 56 percent of online senior citizens use Facebook. And even if a majority of your customers aren't on social media, their children and grandchildren are. They can still buy your products, even if they aren't going to use them. Besides, how do you expect to grow your client base without doing a little outreach?
The B2B business owner
Social media is so perfect for B2C marketing, sometimes I wonder if Mark Zuckerberg is really a marketer at heart. However, B2B owners can't market their products/services to the general public the same way a B2C owner can. B2B companies need to reach that coveted "decision maker," the person who can authorize a purchase for their company.
Well, there's actually a social media site that's perfect for accomplishing this: LinkedIn. As you may know, LinkedIn is filled with professionals in management positions – the site itself likes to boast that it has executives from every Fortune 500 company among its users. And if you invest in LinkedIn's advertising services, you can target specific users based on their industry or title, allowing you to seek out those potential decision makers. It might cost a little money, but it's incredibly efficient.
The small business owner
You don't have to be on the cover of Forbes magazine in order to utilize social media. In fact, it can be even more beneficial for the small business owner. If you own a small company, you probably don't have a ton of money to spend on marketing. Well, social media is your chance to get some free advertising, with some help from your fans along the way.
It's completely free to set up a business page or account on every social media platform, which gives you direct access to your current and potential customers. And one of the keys to growing your social media following is to be active on social media and interact with your followers, which also doesn't cost a dime. By simply devoting some of your time and energy to your social media pages, you can greatly expand awareness of your products/services while also promoting your content and sales.