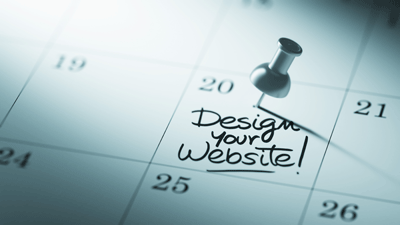 So, your business has had a website for a while. But it's 2015, and we all know the game has changed since you put those first pages up there, and it's time for a new version of your site. Before you start talking to developers and designers, you'll want to familiarize yourself with some of these website redesign terms, so you're not drowning in a sea of current jargon. Understanding these terms will also give you a clearer picture of what your priorities should be when you build the next iteration of your website.
Responsive Design
This refers to a web page's ability to respond, or reformat itself, to different screen sizes. It's particularly important these days, since so many people aren't just connecting to the web through their computer browsers, but are more and more using mobile devices. You should consider "responsive" to be basically equal to "mobile-friendly", since your site will need to look (and work) the way you designed it on phones and tablets as well as desktops and laptops.
UI / UX Design
UI and UX mean User Interface and User Experience, respectively. These may not have been talked about back when you build your first page for Netscape or IE4, but these are crucial website redesign terms in 2015. UI refers to the design of the page itself, as well as any features like forms, buttons, or other controls that the user will interact with. UX refers to the overall experience which the user has on your site. It's essential to consider these factors, since you want users to have an easy and enjoyable experience getting information, and hopefully, purchasing, from your site.
Analytics
Analytics refers to numerical tracking of your website's performance. If you want to know about your site's ROI (Return on Investment), and I'm sure you do, you'll want to collect and analyze this data, which includes the number of visitors you get, which pages they view, where the come from geographically, and what other actions they take while they're on your site.
"Above the Fold"
This is actually an old term left over from print journalism, and it refers to the area of a newspaper which be above the crease in the paper, and thus, included the first things a reader would see before flipping the paper to see what was below the fold. In website redesign terms, it's the area your viewers will see before they have to scroll down, and is the section where designer will place the most important content or elements.
Infinite Scrolling
This refers to a method of design in which the page's content loads as the user scrolls down the page. It allows the user to see more content without needing to click through to another page, and also tends to make the page load more quickly, since the content doesn't have to load all at once.
SEO
SEO, or Search Engine Optimization, refers to optimizing your site so that you can be easily found by way of search engines.