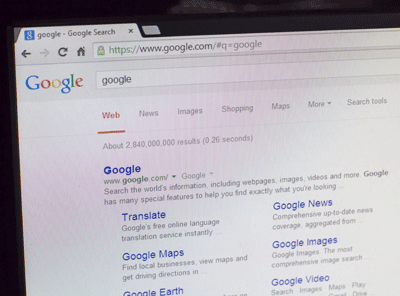 For almost every small business, getting on the front page of Google search results is seen as the ultimate goal for their website. Research by advertising agency, Chitikia, found that the number one listing on Google pulls in 33% of the traffic alone! Along with this, they discovered the first page accounts for 91.5% of traffic, so if you are listed on page two or even farther back, it is incredibly unlikely that anyone will find or click on your website.
As a dentist, you probably rely on your website to bring in a fair amount of new patients. A majority of people turn to search engines first when looking for something whether it is a new pair of sunglasses or a new dentist. Therefore, your website should be accurately and effectively representing your practice. It should be easy to navigate, pleasing to look at, and show visitors exactly what you have to offer. Once you have a great website, you need to work on search engine optimization (SEO).
SEO Best Practices
According to Moz, "SEO is a marketing discipline focused on growing visibility in organic (non-paid) search engine results. SEO encompasses both the technical and creative elements required to improve rankings, drive traffic, and increase awareness in search engines." This comes from their beginner's guide to SEO, which you should definitely check out for a comprehensive overview on the subject. I will just go over a few things you should know.
A main component of SEO deals with your website structure. You, or your web designer, need to make sure every element on your pages is tagged with the write titles and descriptions and that all your site URLS are descriptive. Doing so allows search engines to more easily figure out what your website is providing and how to rank it. If your website contains a lot of information about cosmetic dentistry, but none of it is labeled properly, then you will have trouble reaching the front page when people search for those terms.
Other best practices for SEO include making sure your site loads quickly, ensuring it works on all different types of devices from desktops to mobile, and keeping your pages updated constantly. As Search Engine Land states, "SEO can make your brand stronger, better and well recognized. The eventual goal should be that, when people search for business critical and relevant keywords and phrases, they should find you at the top of search results."
Keyword Research
Knowing what people are searching for to find your dental practice is necessary to increase your rankings. If you don't know how people are finding you, then you are stumbling in the dark. You want to go after specific keywords related to your business. It is incredibly unlikely that you will ever rank on the first page when someone searches, "dentist" or "dental practice." There are incredibly broad terms and every practice in the world is competing for those spots.
Instead, you should hope to rank high when someone searches, "dentist in (your area)" or "gum disease treatment in (your area)." These keywords are much more specific and likely to result in a new patient rather than just someone browsing your site with no intention of making an appointment.
A great way to target keywords is by setting up a blog. As a dentist, the amount of blog topics at your disposal is massive. This will increase the amount of pages on your website, increase the authority of your site, establish your site as a knowledgeable place for information, and increase the likelihood of ranking for multiple keywords. With a blog, each article can potentially rank alone. One of our dental clients currently ranks on the front page for terms like "throbbing toothache," "how to fix an overbite," and "signs you have a cavity." This is all thanks to their blog, and it contributes to massive increases in website traffic and subsequent increases in new patients.
Local Search
Your dental practice probably doesn't have locations across the country or even across the state. Most offices have one central location and therefore, local search is incredibly important. Google will often show a tiny map right under the ads showing the top listings in the area. Performing a quick search for "dentist in Pleasanton" and I see pages of dentists in this town of only 70,000 people. If you aren't at the top, you are generally out of luck.
To rank high on local search, you need to make sure your address and phone number match the city you are in. If you're in a suburb and trying to rank for the nearby city, it is very unlikely because of your address. Other great ways to increase your rankings are utilizing directories like Yelp, Yellow Pages, or the BBB. By having your practice accurately displayed on these sites, you are proving to search engines that your business is legitimate, and you are increasing the authority of your website.