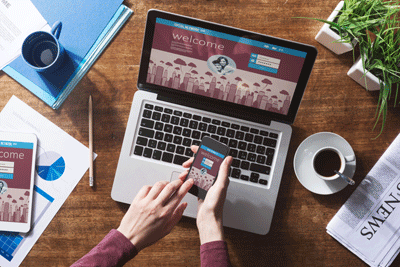 When you're an inbound marketing agency, you have to decide what you stand for and what your principles are. For instance, here at Rhino, we truly believe the client is always right, even when we disagree with them. We have confidence in our methods and have seen them work for others, so we ask our clients to trust us; but ultimately, if they want something different, that's what we give them. It's their money and their campaigns, so we'll do it the way they'd like.
Another major principle of ours: a company website should become that company's most powerful sales tool, especially if you're utilizing inbound marketing methods. In fact, if your strategy is well-planned, there's no reason your website can't be a sales powerhouse. But you have to ensure you've designed it for optimal success.
The content is the star
For both inbound marketing and increased sales, content is king. Content (in the form of blog articles) is what will bring visitors (and potential leads) to your website. Therefore, it behooves you to blog and blog often. We advise clients to post no less than three blog articles per week, and to post them on a consistent basis – for instance, posting every Monday, Wednesday and Friday afternoon. This will boost your site's standing in the eyes of Google, because it adds more site pages (enlarging your online footprint) and keeps your site relevant. And when Google likes your site, it ranks it more highly in search results. That's excellent for your traffic numbers.
So what do I do with all these visitors?
You turn them into leads, of course. This will also be accomplished with content. But instead of blog articles, "content offers" will be used. These offers are a bit more in-depth than your standard blog articles, and usually take a compelling format (such as an eBook, white paper or infographic). You present these offers for "free" – the visitor just needs to provide contact information. They think they're getting something for nothing, but what they've actually done is agree to become a lead for your business.
How can I boost my lead conversions?
This is where smart site design will serve you well. Another one of our principles is that no visitor should ever be confused about how to contact you. Therefore, ensure that every page on the site is only a click away from a "contact us" page that has information about your company.
Additionally, there should be a link to a content offer at the end of every blog article. Most of your visitors will arrive via blog articles they found in a Google search, so it's smart to include content offer links. You should also include social sharing icons throughout your site – when a visitor shares your content on Facebook or Twitter, it's free publicity and marketing for you.
Finally, ensure you have some analytics for your website. Without analytics, it can be difficult to understand how your campaigns are performing. Always analyze the numbers to see which blogs are getting the most traffic and how successful your content offers are. That will allow you to identify your best strategies, as well as which methods aren't working.