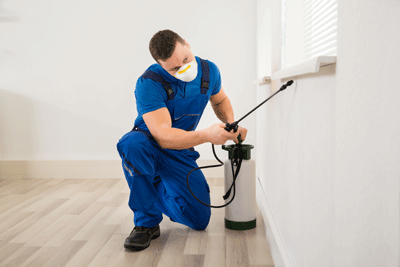 Maybe your pest control company has been in business for decades or maybe you are just getting into the game. Either way, you know the importance of marketing and how it can increase your overall sales. No business can survive solely on great service. If nobody knows you exist, nobody will know to hire you. Pest control companies are part of a competitive market, but there is constant demand because pests are always invading our homes or infesting our businesses. If you want your company to stand out from the crowd, you need to learn about inbound marketing.
This marketing strategy is a great choice for small businesses because it provides measurable results, saves time and money, and increases your brand awareness. According to HubSpot's State of Inbound 2015, "Companies are 3x as likely to see higher ROI [return on investment] on inbound marketing campaigns than on outbound" (p. 24). Think what you could do with all that extra money; you could invest in new equipment, hire more staff, or expand to new locations. Instead of throwing money into the abyss of print advertisements, outdoor ads, or TV commercials, you could be tripling your return with inbound marketing. Now you know what it can do for you, but where do you begin?
Set objectives
"Change before you have to" – Jack Welsh (Former CEO of General Electric)
You don't want to be stuck behind the curve. If you are still posting in the Yellow Pages, you are already behind the times. We are in the digital age, and you should be advertising to your audience in the place where they spend their time. Don't wait until all your leads have dried up, and you are struggling to close any deals. Make the change to inbound marketing now. Set objectives of what you hope to achieve with your marketing efforts, and see how inbound marketing can help you reach those goals. Some reachable objectives for pest control companies could be any of the following:
Increase local awareness of company
Establish your business as a credible, knowledgeable, industry leader
Build a large contact base
Have your website rank within the first page of Google for related keywords
Determine who you should be targeting
"It's not about having the right opportunities. It's about handling the opportunities right." - Mark Hunter (Sales Consultant and Industry Influencer)
The great thing about pest control marketing is the size of your audience. Everyone from homeowners, apartment dwellers, business leaders, or college dorm students might suffer from a pest problem and need your help. You have so many opportunities, and you should be treating each opportunity with the same attention and care. Maybe your business originally wanted to only handle jobs in the expensive part of the neighborhood because you figured that group had more money to spend on pest control services. You spent all your advertising money trying to reach those clients, but most of your calls were coming from the low-income apartments. An example like this shows why it is important to constantly reevaluate your targets.
With inbound marketing, the focus is on buyer personas. These are essentially your ideal customers. For a pest control company, this could be something like Apartment Owner Adam, who owns several apartment complexes and has frequent problems with rodents, ants, and birds. With these buyer personas, you get a better understanding of who to focus your marketing efforts around. You will know what type of blogs to write, what social media platforms you should be on, and what search terms this person might enter into Google.
Buyer personas are one of the main reasons inbound marketing works so well. Rather than spending money hoping and praying for your efforts to reach the people you want, inbound marketing brings your buyer personas directly to you. By creating relevant blogs and informational content, people will seek out your website and discover what your business has to offer.
Dedicate time and effort into executing your plan
"You can't build a reputation on what you are going to do." - Henry Ford
Once you have spent time figuring out an inbound marketing strategy for your business, you need to follow through. It can be a bit scary to turn your back on traditional advertising, especially if that is all you have ever known. If you aren't tech savvy, it can be even more intimidating. Luckily, there are countless websites with helpful tutorials to help you. HubSpot has a whole library of marketing guides, Kissmetrics has an academy, and Marketo has a popular blog. Once you know where to start, make it happen! Either take time out of your own schedule or have one of your staff members take a few hours a day to execute your campaign.
Inbound marketing does not give instant results, which can be discouraging for many. However, if you give it time and put in the effort, it can really work. The more blogs you add, the more posts you make on social media, and the more helpful your content, the greater the chance that you will see dramatic increases in leads, calls, and customers. Patience is incredibly important in this process.
When we, here at Rhino, took over the marketing for one of our pest control clients, they were barely getting 100 visits to their website each month. After implementing our plan, they saw steady growth for several months, increasing by several hundred each month. Then, after a total of nine months, their visits increased 10x to over 1000 per month. From there, it increased exponentially and now remains around 2,500 visits each month!
The process works if you let it. Pest control companies can do extremely well by embracing inbound marketing. We have seen it first hand. If you don't think you are up to the task but want to try it, consider partnering with an inbound marketing agency. An agency will handle all the technical steps, and you will reap the rewards.