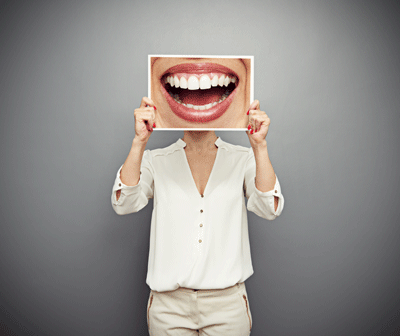 Well, you don't need to. However, if you want to increase your number of patients and grow your business, you should definitely consider integrating social media into your marketing strategy. You do have a marketing strategy, right? You should have some sort of plan to bring in new patients and attract people to your practice. This could be through advertising, referrals, emails, or maybe you already know about inbound marketing, which is ideal for dentists.
Social media is a wonderful supplement to any current strategy because you can seamlessly integrate it at no cost. If you created some print advertisements or billboards, you can adjust these and post the photos to your social media accounts. This content won't disappear after a set amount of time or after your money runs out. You can continue to reuse it and promote your business for as long as you want. If you are blogging as part of your inbound strategy (and HubSpot found 79% of companies that have a blog report a positive return on investment), then you can post links to your blogs on social media to increase your readership and drive traffic to your site.
Let's briefly go over the pros and cons of three major social media platforms, so you can determine which is best for your dental practice.
Facebook
This is the big one with about 1.04 billion daily active users! It should probably be your first choice as a dental practice because most of your patients and those you hope to bring in already have accounts. You can communicate directly to these people and share interesting, relevant information with them.
Pros
Huge, diverse audience
Many options to customize your page
Patients can leave reviews and ratings
You can set up a "request appointment" tab directly on your Facebook page
No word limits
Can include a map with your exact location and your daily hours
Access to powerful advertising tools
Ability to promote special offers ($ off teeth cleaning, etc.)
Cons
Difficult to be found and heard
Takes time to build up fans
Requires commitment and regular updates to keep fans engaged
Twitter
This platform is another great choice for dentists because it allows you to post quick snippets of information. Maybe you are having a special deal on teeth whitening this month, or maybe you are redecorating your office. You can let your followers know about it in an instant. It boasts 320 million monthly active users, which means you will likely find your audience in there somewhere. By using hashtags, people can more easily locate your posts, share it with their friends, and promote your business. Twitter is all about conversation and engagement.
Pros
Ability to reach many different people and target with hashtags
Simple to get started
Short and sweet updates
A more active audience. "The average Twitter user posts 5x a day, compared to Facebook users who post less than 1x a day" (SumAll)
Easy to promote blog posts and drive traffic to your site
See what people are saying about your business
Cons
Requires frequent use to maintain a following
Easy to be ignored
Limited to 140 characters per tweet
Have to dedicate time to interacting and engaging
LinkedIn
This is often considered to be the professional's social media place. You can read here how it is actually useful for B2C companies like dental practices. There are more than 400 million members, and it is a platform that consists almost exclusively of adults, which are dentists' prime targets.
Pros
Cons
Not as active
More focused on job searches and networking
Very limited interactivity
More formal
These are just a few of your social media options. You can also look into Instagram, Google+, or even YouTube. There are so many ways to reach a wider audience and get some new patients. You can use it to create a reputation and establish your practice as a sociable, connected business that cares about its patients.
Social media is a great, cheap way to market your dental office and get your name out there. People don't search the yellow pages anymore to find a dentist. Most will search Google, and if you are active on many of the sites, which your patients frequent, it is more likely they will choose you over the competition.