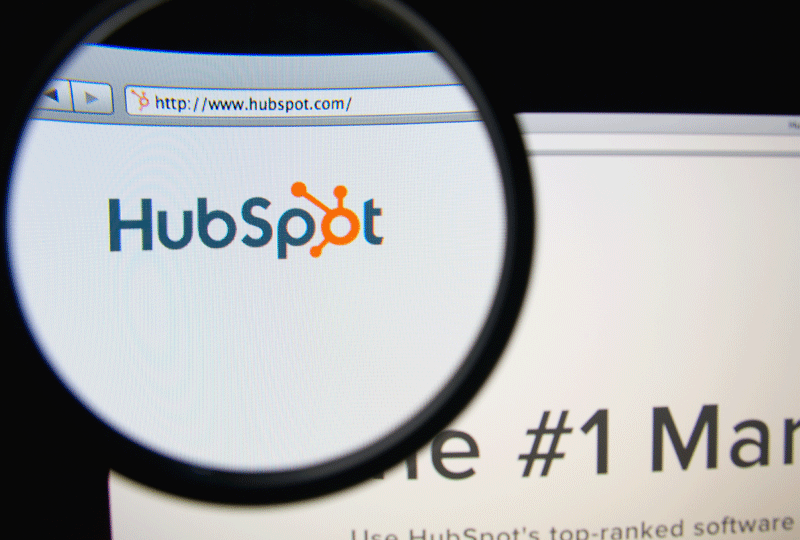 Here at Rhino, we love HubSpot (really, really love it)! We write about how great it is, but you probably think we are just another biased company being paid to promote this product. However, through a simple Google search, you will find hundreds of other agencies and businesses singing the praises of HubSpot as well. Even so, you are still skeptical and that is understandable.
Maybe you have had a poor experience in the past with marketing automation, or maybe you were promised results from a marketing company and ended up wasting money. There are plenty of reasons to be wary of anything online. Hopefully by the end of this blog, you will at least be open to the idea that HubSpot might work for your business. We will be using an example client to show you that HubSpot really does work.
Increase your website visits
A great website is essential in this day and age. Despite this, "more than half of small business owners do not have a website" (Forbes). A fully functional website acts as a representative for your business at all hours of the day and can increase your brand awareness and credibility. One of the great things about HubSpot is that it has one of the most user-friendly web development tools out there. Not only can you create an awesome site, HubSpot gives you incredibly powerful tracking and analytics tools.
For our example client, they were using an incredibly outdated site when we first partnered with them. We created a well optimized website with many pages and target keywords. Our goal was to rank higher for relevant searches and to increase overall visits. When we began, this business was receiving about 600 – 700 visits per month and 0 online leads per month.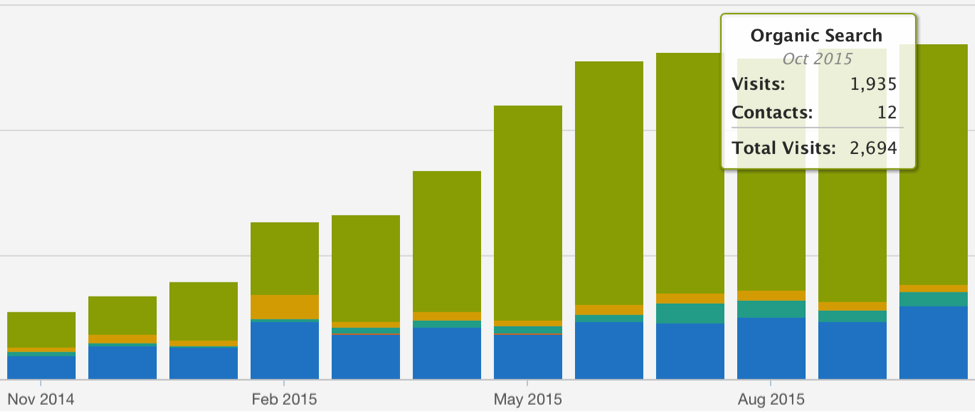 As you can see from this screenshot of their overall visits, as time progressed the number continued to increase. The different color blocks represent the sources of the traffic with the green being organic searches. Inbound marketing is not immediate as you can see, but if you give it time, you will see the results. The more visits you get to your website, the greater chance you have to convert more leads and more customers.
Build your social following
Social media is not just for big, corporate businesses. All types of businesses from B2B to small businesses should embrace social media. It is a wonderful and free way to increase awareness for your brand. However, if you really want to spend money, there are ways to advertise on these platforms as well (Check out this beginner's guide to social media advertising from Hootsuite if you are interested).
HubSpot has some great social media tools that will accelerate any social media marketing campaign you can think of. Of course, you can just post occasional updates here and there and try to stay engaged when you can, but if you really want to take your efforts to the next level HubSpot can get you there. You can link your Twitter, Facebook, LinkedIn, and Google+ accounts in one place, so there is no need to navigate to all these sites and try to remember all those logins.
Because everything is linked together, you will see all your notifications in one seamless "Social Inbox." HubSpot also allows you to respond to these notifications right in the inbox, so for example, if you have a new follower you can immediately follow back or send them a quick message.
Another useful tool is called "Social Monitoring" where you can set up streams which monitor any keyword you want. This is great for tracking when people mention your business name or for listening to what people are saying about your industry. An example is shown below which could be useful for a marketing agency.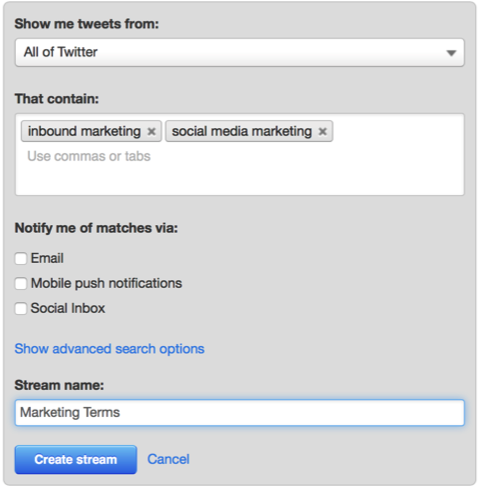 Finally, you can publish all your posts across your platforms from directly in HubSpot. You have the ability to write posts individually or bulk upload for Twitter. You can even schedule your posts in advance to stay on top of the game. Once you begin posting, you also can see reports showing the engagement rates, interactions, clicks, and contacts. These reports will show you the HubSpot difference, and how well these tools will work to your advantage.

As you can see from our example client, this graph represents the total number of visits to their website directly from social media. Whether you like social media or not, you can not deny how it can impact your business. I don't think our client would have been able to see numbers like this without HubSpot's tools.
Generate more leads
Your website should be generating leads for you left and right. Having plenty of CTAs (call to action), landing pages, and form fills will allow you to gather data on your visitors and turn them into leads. HubSpot makes it incredibly easy to create these and add them seamlessly onto your website. Leads can also come from email campaigns, social media, or referrals, all of which can be handled directly in HubSpot.
If someone is visiting your website, you have to assume they are at least somewhat interested in what you have to offer. You just need to move them in the right direction. Below is an example of how simple it is to create a call to action within HubSpot.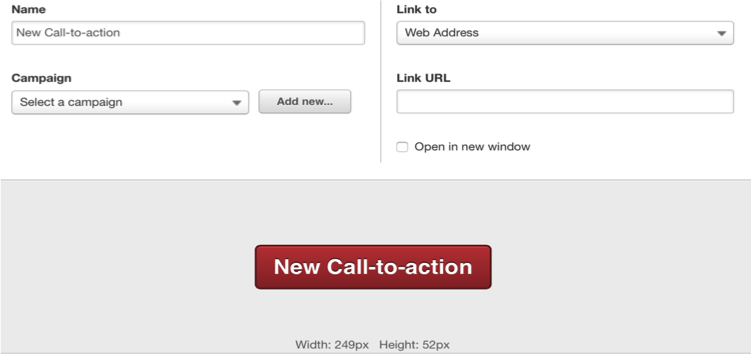 Because you can track exactly where your leads are coming from, you get a better understanding of what is working and what isn't. You can figure out where you should be focusing your efforts and determining what is most successful. HubSpot allows you so much data and information. You can see what pages your leads are clicking on, what forms they are filling out, what blogs they are reading, and more. You can use all this information to better understand your customers and what you should be offering.
Interested?
If this blog has achieved my goal of getting you to consider how HubSpot could help your company, then I urge you to do some more research and see if it really would be a good fit. Visit the HubSpot website for their sales pitch and overview.
Additionally, you can check out some of our other blogs for even more information.